Seductive Shadows

This read was a little slow to get into, but was definitely worth it. It kept me on edge until the very end. Charlie was an amazing main character that showed such growth. A main focus in this book is character dev elopement, and it was beautifully thought out. I'm still moved by the ending chapters. I could relate to Charlie in some ways, and I'm glad she found her "Kiss". Stunning and beautiful read.
​
Seductive Secrecy

Wow. Just wow. It was raw, emotional, carnal and I loved every single word of it. This is the kind of book that rips your heart open and leaves you wanting more. The characters were spectacular. Everything was just so REAL. Nothing was sugar-coated and embellished to make it a light read. It was anything but and I thank the author for it. For me, it was one of those books (duology in this case) that changed me after reading them. It wasn't a basic book about that "cookie-cutter" love story. (We all know those books I'm talking about; and don't get me wrong, I enjoy those, but not as much as this one.
Powered by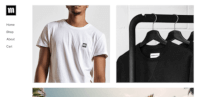 Create your own unique website with customizable templates.